Keto meal recipes for quick, easy meals. You've come to the right place for keto-friendly ideas for dinner.
30 Best Keto Meal Recipes
Here are 30 delicious keto meal recipes for you to try:
Bacon and Egg Breakfast Muffins: These portable muffins are made with bacon, eggs, cheese, and almond flour.
Cauliflower Fried Rice: Replace traditional rice with cauliflower rice in this flavorful stir-fry dish.
Avocado and Bacon Stuffed Chicken Breast: Stuff chicken breasts with avocado and bacon, then bake until tender and juicy.
Zucchini Noodles with Pesto: Spiralize zucchini into noodles and toss with homemade pesto for a low-carb pasta alternative.
Keto Cheeseburger Salad: Enjoy all the flavors of a cheeseburger in a salad form, topped with a creamy dressing.
Salmon with Lemon Butter Sauce: Pan-seared salmon fillets drizzled with a tangy lemon butter sauce.
Eggplant Lasagna: Use sliced eggplant instead of noodles to create a tasty, low-carb lasagna.
Buffalo Chicken Lettuce Wraps: Wrap spicy buffalo chicken in lettuce leaves for a refreshing and keto-friendly meal.
Spinach and Feta Stuffed Pork Tenderloin: Roll tender pork with spinach and feta cheese, then roast until cooked through.
Cabbage and Sausage Skillet: Sauté cabbage and sausage together for a quick and satisfying one-pan meal.
Greek Salad with Grilled Chicken: Toss together fresh vegetables, olives, feta cheese, and grilled chicken for a light and flavorful keto salad.
Taco Stuffed Peppers: Fill bell peppers with seasoned ground beef, cheese, and salsa for a delicious and colorful meal.
Garlic Butter Steak Bites: Sear bite-sized pieces of steak in garlic butter for a mouthwatering protein-packed dish.
Cauliflower Crust Pizza: Make a pizza crust using cauliflower and top it with your favorite keto-friendly toppings.
Lemon Herb Baked Cod: Season cod fillets with lemon juice, herbs, and butter, then bake until flaky and tender.
Broccoli Cheddar Soup: Creamy and cheesy, this soup is made with broccoli, cheddar cheese, and heavy cream.
Keto Chicken Alfredo: Enjoy a creamy and satisfying chicken Alfredo dish made with zucchini noodles.
Stuffed Bell Peppers with Ground Turkey: Fill bell peppers with seasoned ground turkey, cheese, and spices, then bake until golden and bubbly.
Bacon-Wrapped Asparagus: Wrap asparagus spears with bacon and bake until crispy for a flavorful side dish.
Keto Chili: This hearty chili is made with ground beef, tomatoes, peppers, and spices, minus the beans.
Garlic Butter Shrimp: Sauté shrimp in garlic butter and serve with cauliflower rice or zucchini noodles.
Cauliflower Mac and Cheese: Replace pasta with cauliflower in this cheesy and comforting dish.
Caprese Stuffed Avocados: Stuff ripe avocados with cherry tomatoes, mozzarella, and fresh basil for a refreshing appetizer or light meal.
Chicken Bacon Ranch Casserole: Combine cooked chicken, bacon, ranch dressing, and cheese in a casserole dish, then bake until bubbly.
Keto Egg Salad Lettuce Wraps: Make a creamy egg salad and wrap it in lettuce leaves for a light and satisfying lunch.
Coconut Curry Chicken: Cook chicken in a flavorful coconut curry sauce and serve with cauliflower rice.
Zucchini Pizza Boats: Hollow out zucchini and fill with pizza toppings, then bake until the cheese is melted and bubbly.
Cauliflower and Broccoli Gratin: Make a cheesy gratin using cauliflower, broccoli, and a creamy sauce.
Pesto Baked Chicken Thighs: Coat chicken thighs with pesto and bake until golden and crispy.
Keto Chocolate Avocado Smoothie: Blend together avocado, cocoa powder, almond milk, and a low-carb sweetener for a rich and creamy chocolate smoothie.
These recipes offer a variety of options for breakfast, lunch, dinner, and snacks while following a keto diet. Enjoy trying them out!
The Only Keto Diet Video You Need To Watch • Tasty
Following a keto diet doesn't have to break the bank. Here are some budget tips to help you stick to your keto lifestyle without overspending:
Plan your meals: Take some time to plan your meals for the week ahead. This will help you make a shopping list and avoid impulse purchases.
Buy in bulk: Consider purchasing keto-friendly staples like meats, cheeses, nuts, and seeds in bulk. This often comes at a lower cost per unit and can save you money in the long run.
Cook at home: Eating out can be expensive, so try to prepare most of your meals at home. Cooking your meals from scratch allows you to control the ingredients and save money compared to pre-packaged or restaurant meals.
Embrace whole foods: Focus on whole, unprocessed foods like meats, poultry, fish, eggs, low-carb vegetables, and healthy fats. These tend to be more affordable compared to specialty keto products.
Utilize cheaper protein sources: Look for budget-friendly protein sources like chicken thighs, ground beef, eggs, and canned tuna. These options often provide good nutrition at a lower cost.
Shop sales and discounts: Keep an eye out for sales, discounts, and coupons on keto-friendly items. Stock up when there are promotions on items like avocados, frozen vegetables, or canned goods.
Freeze leftovers: If you have leftovers from your meals, freeze them for later use. This reduces waste and provides you with ready-made keto meals when you're short on time or ingredients.
Make your own snacks: Pre-packaged keto snacks can be expensive. Instead, make your own snacks like homemade beef jerky, roasted nuts, or cheese crisps. They are often more cost-effective and healthier.
Explore cheaper vegetables: While some low-carb vegetables can be pricey, there are budget-friendly options like cabbage, broccoli, cauliflower, and zucchini that can be used in various keto recipes.
Prioritize essential fats: Focus on cost-effective healthy fats like olive oil, coconut oil, butter, and avocado, rather than expensive specialty oils or products.
Drink water: Stick to water as your primary beverage. It's not only the healthiest option but also the most cost-effective, avoiding the expense of sodas, juices, or specialty keto drinks.
Make your own condiments and dressings: Many store-bought condiments and dressings contain added sugars and unhealthy fats. Save money by making your own keto-friendly versions at home.
Remember, the key is to focus on whole foods and smart shopping, rather than relying on expensive processed keto products. By planning ahead and making conscious choices, you can successfully maintain a budget-friendly keto diet.
If you enjoyed these tips on keto meals and would like to keep it close to you at any time, just save this pin to your Pinterest Board.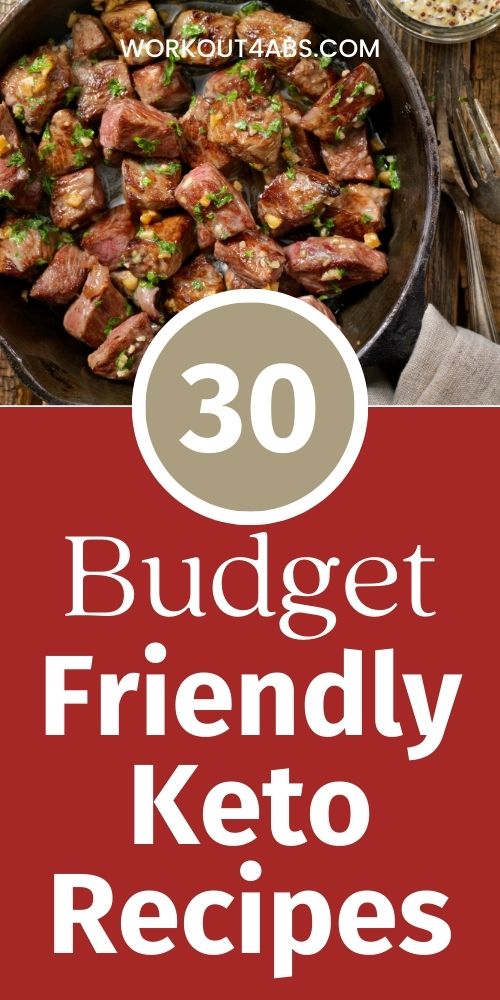 Budget Friendly KETO Meal (3 CARBS)
---
Keto Meal Recipes Related Pages
Cabbage Keto Recipe
Cabbage keto recipe is low carb! This fried cabbage with bacon recipe is keto! Keto cabbage and sausage skillet is a tasty meal!
Best Keto Dessert Recipes
Best keto dessert recipes that have ZERO SPIKE to blood sugar, ingredients to avoid carbohydrates that raise blood sugar.
Best Keto Cookie Recipe
Best keto cookie recipe delicious soft on the inside chocolate chip cookie? Easy sugar-free keto & low carb cookies baked
Best Keto Brownie Recipe
Best keto brownie recipe with almond flour instead of regular wheat flour and a low carb sweetener instead of sugar, making them gluten-free.
Beef Keto Recipes
Beef keto recipes. This is how you do it. Buy beef in bulk, cook it up, and get ready for any of these amazing low carb dinners and lunches.
Avocado Keto Recipes
Avocado keto recipes with traditional guacamole is keto friendly. The carbs in guacamole are minimal. Avocados are high in fiber.
Asian Keto Recipes
Asian keto recipes and strategies to make or order keto-friendly Chinese food. A perfect healthy meal prep idea or side dish to your dinners.
Almond Flour Keto Recipes
Almond flour keto recipes are great for making traditionally high-carb breakfast recipes keto friendly. Almond flour for low-carb baking.
Air Fryer Keto Recipes
Air fryer keto recipes you can make including snacks, dinners, desserts, and more! Air fryers are a great option for keto diets.
30 Best Keto Bread Recipes
30 best keto bread recipes for low-carb and keto dieters. Check out this keto bread lower in carbs and higher in protein and fiber.
Crock Pot Keto Recipes
Crock pot keto recipes can be a great option for following a keto diet because they often involve slow cooking and can help develop flavors.
Cream Cheese Keto Recipes
Cream cheese keto recipes are great because cream cheese is very low in carbohydrates, moderate in protein, and high in fat.
Chicken Thigh Keto Recipe
Chicken thigh keto recipe are a great choice for keto diet because thighs a full of protein and have a bit more fat than leaner white meat.
Chicken Breast Keto Recipes
Chicken breast keto recipes are considered to be keto-friendly because it is high in protein with fat and low in carbohydrates. Enjoy these!
Cauliflower Keto Recipes
Cauliflower keto recipes are great as when you have 150 grams of cauliflower as a side dish, you get only 5.2 grams of net carbs.

Keto Friendly Beans
Discover which beans are keto friendly and the best low-carb options to savor and which beans to skip for a successful ketogenic journey.

Vegetables Keto Friendly
What vegetables are keto friendly? Explore the world of keto-friendly vegetables in our concise guide. Learn about low-carb, keto recipes.

Keto Friendly Nuts
What nuts are keto friendly? Uncovering top choices and avoiding pitfalls. Discover delicious recipes for your low-carb ketogenic lifestyle.

Keto Friendly Foods
What foods are keto friendly? Discover the best and worst choices, delve into zero-carb options Make informed keto diet decisions.

Keto Friendly Fruit
What fruits are keto friendly? Learn which fruits are low-carb and which to limit. Savor keto dinner recipes blending fruit with a keto diet.

Keto for Beginners
Discover a keto diet plan for beginners covering key principles, meal planning, and tips for a successful start on the keto journey.
---
Home › Keto Meal Recipes